We develop three types of renewable energy projects: hydro, solar and wind, one of them by ourselves and other ones in international strategic partnerships.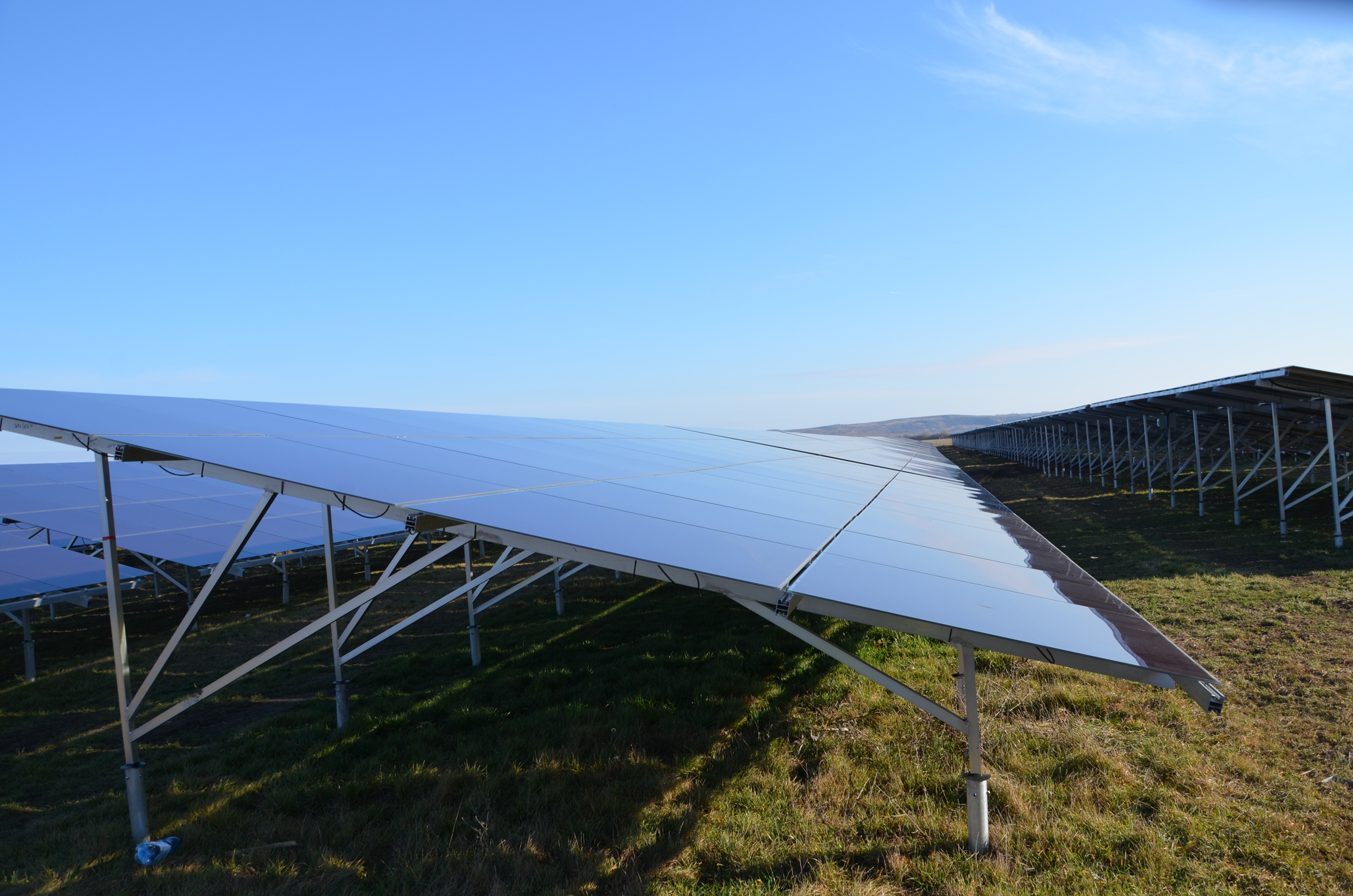 SOLAR
The potential market for solar applications is very large but specific incentives will be needed in order for this natural resource to be exploited properly.
The average solar radiation in Romania ranges from 1.100 to 1.300 kWh/m2 per year for more than half of the country's surface.
Our current projects:
Valea lui Cati
Capacity: 3 MW
Total area of the land: 30 hectares
Moldovenesti
Capacity: 3 MW
Total area of the land: 8,86 hectares
Chiribis
Capacity: 5 MW
Total area of the land: 15 hectares
Salard
Capacity: 4 MW
Total area of the land: 8,2 hectares
HYDRO
For Romania, hydro potential is a sustainable energy development alternative, considering the limited sources of raw material for producing energy, as well as the need of obtaining affordable energy that does not produce greenhouse gases.
Romania has not yet exploited its full hydro power potential, so the investments in this sector deserves to be taken into account.
Technical details regarding some of our projects:
Bistra:
0.759 MW Net Power
2702 MWh/year Annual Energy Production
4424 meters Pipe length
Vad:
0.895 MW Net Power
2500 MWh/year Annual Energy Production
3232 meters Pipe length
Anies:
2.210 MW Net Power
8542 MWh/year Annual Energy Production
4749 meters Pipe length
Crisul Negru:
0.990 MW Net Power
3952 MWh/year Annual Energy Production
3480 meters Pipe length
WIND
Romania's wind resources are well documented and well known and there are a broad range of existing applications from small autonomous units for rural areas to large off-shore potential. Romania also offers very favorable conditions for wind park investments with high revenues.
In 2007 we developed a project in Negresti (Vaslui county) and we later sold the project but we have been holding to the management part of it ever since. In 2012 we obtained UE grants in amount of 19 millions euro and we continued growing the park.
In 2011 we started another project in Ruginoasa (Iasi county) and we are currently working on it.
ERP - business management software
We managed to attract European grants in order to change all our IT equipment and internal network and also a business management software, an integrated application – ERP bcManager Professional.
We see this project as a must have because of our efficiency in work on one hand, but on the other hand also for transparency in our relation with our foreign partners. This ERP provides an integrated view of business processes, most of all in real-time via an internet connection.
This software is also a suite of integrated applications that a company can use to collect, store, manage and interpret data from many business activities. More than that we have a module included in this ERP for monitoring system of our renewable energy projects and we can visualize in each moment our production and also the state of facts on the site, via camera connected to internet.